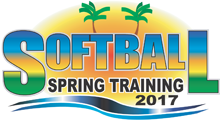 Our 2017 events are as follows...

Two Different Weekends, Same Great Event!
When:
Week #1 March 8th – March 11th, 2017
Week #2 March 15th – March 18th, 2017
Cost: $360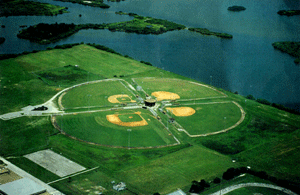 Where: Cocoa Beach, Florida... home of the Space Coast, Orlando's Closest Beach and some of the country's best beaches!

2017 Event Lineup: Both week #1 and week #2 feature the same itinerary.

Wednesday – Travel day for spring trainers to arrive in town from all over the nation! Informal, non-mandatory meet & greet poolside at the International Palms Resort. Meet camp director Jim Ramsey, returning campers and new first time attendees. 5:30pm – 8pm

Thursday – Softball Magazine sponsored registration / welcome breakfast 8:30am at the International Palms Resort. Buffet breakfast for all campers with some welcome goodies and giveaways to start the camp! Then it's off to the fields just six minutes away! A full day of softball from batting practice to scrimmages games, tips from the pros, contest and more. The day wraps up at 5pm, but remember nothing is mandatory, this is your camp and you can come and go as you please! Lunch is catered everyday at the fields along with a endless supplied refreshment tent stocked full of water, sports drinks and soft drinks.

Friday – Fields open at 9am with another full day of softball. Contest, scrimmage games, batting practice, defensive clinic and sessions with the pros. Camp wraps up at 5pm. Pros! - The sports top players representing their brands working with you to help improve your game! Learn from the best in the game and head home to start your new season with a whole new game!
Sponsors – Easton Sports, Combat Sports, Louisville Slugger, GTee's, Adidas Worth Sports, Miken Sports, Dudley Sports, 3N2 Sports, Jugs Pitching Machines, City of Cocoa Beach, Florida's Space Coast


Senior players (50plus) may choose the senior package option to receive a senior package on Saturday evening!

Saturday - Fields open at 9am with another full day of softball. Contest, scrimmage games, batting practice, defensive clinic and sessions with the pros. Camp wraps up at 4pm with the Saturday evenings Banquet Happy Hour at 6pm and dinner at 7pm at the Cocoa Beach Country Club. All of the trainers receive a new model bat and back pack bat bag from one of the SST Sponsors to get your season started! Saturday evenings dinner and package is part of your camps registration fee.

Note – Travel arrangements and cost is the responsibility of the trainer. Lodging is also the responsibility of the trainer. Book through the Softball Magazine office for special rates, stay at the host hotel and save money!
Softball Complex address: Cocoa Beach – 1500 Minutemen Causeway - Cocoa Beach, FL 32931